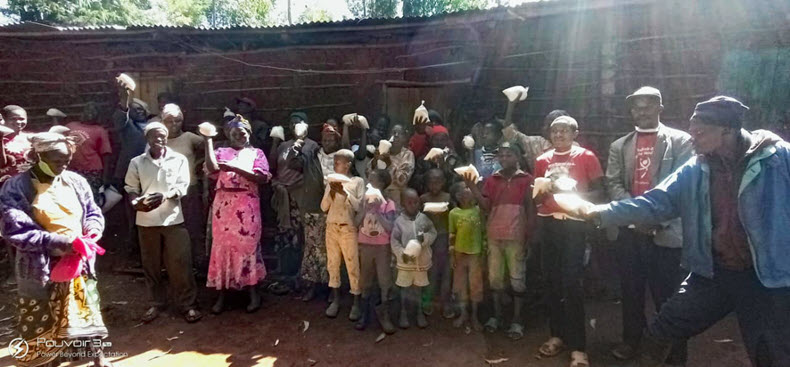 From the President's Desk
Recently a friend of mine – who has already donated a Berkey filter to Emmah's Garden's efforts – heard about our actions to deliver food to the poorest people in the village of Nyandoche Ibere. She is strongly supportive. Her reasons were clear. "People who are hungry, mothers whose children are hungry," she said, "do not care about long term improvements. They want help now."
She wants to see her money going to these immediate needs.
That is how she wants to help. Longer-term plans to improve agriculture, water quality, water sufficiency, create jobs, and combat climate change plans preoccupy Americans, she thinks. She wants assurances that Emmah's Garden is helping people right now, and she will donate.
I sent her pictures of food being distributed this past week in the village. I could have sent just a picture or two of people happily holding up the food packages they just received. These are the people who need immediate food support the most. I included some that will help us see and understand better the complicated situation of these people who are receiving this immediate help with food.
Then I began to wonder about who donates and why. Here are my thoughts:
Some donors want to be certain that urgent present needs are being met. They donate to meet immediate problems — food and water.
Other donors focus on teaching people to fish rather than giving a fish for tonight's supper. Education for changing practices drives their giving.
Some believe that the best results come from improving infrastructure to support new jobs, to support healthcare, and education.
Certain donors are motivated by the challenges flowing from climate change. These donors believe that climate change unites us all, worldwide. They believe in a need to change and defend ourselves from disaster. They feel strongly that we are in this together.
We will be describing projects currently underway so that you can dedicate your giving to specific projects if you want. Of course, we also value people who give unrestricted funds to maintain the overall effort. We invite you to check in with us.
You can subscribe to updates by following this link.
You can also make a donation to Emmah's Garden by using this link.
Thank you!
Everyone wants assurances that their donations help the people they are attempting to help. That is a story we want tell repeatedly. We to show things happening as they happen. We want to share our actions. We want to show benefits flowing and challenges being met in the village.
No one gets everything right the first time. Quality improvement counts. We aim for progress.